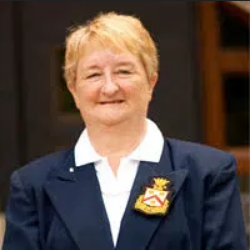 Outreach Coordinator
The Alumni Association is proud to introduce our new Alumni Outreach Coordinator, Jean Miller. Many of you know Jean from her years of service working as Director of Development for the School. We are excited about the capability her experience, talent, and dedication will bring to the development of our Association in better serving all alumni. We regard her extensive personal contact with many alumni as a major resource for our Association. Jean will be coordinating Alumni Association events such as regional dinners and fundraising for support of Alumni Association activities. Go forth and do great things Ms. Jean!
Mrs. Jean Miller is a native of the Sturgis area, graduating from Sturgis High School in 1973. She attended Glen Oaks Community College in Centreville, Michigan. Before Jean came to Howe Military in August, 1990, she worked for the credit bureau in Sturgis, Michigan for 17 years. Her duties there included collecting bad debts, making sales, participating in court proceedings, and finding lost people.
In April, 2002, Col. Tom Merritt appointed her Director of Development. Her first job was to find 1200 lost alumni. She located all but 450 of them—an astounding 62 1/2 percent success rate.
She loved her work with Howe alumni. She has received a special recognition award from the Howe Alumni Association and has also been named an honorary alumna of Howe Military Academy. Jean and her husband, Ray, live in Florida. If you are able to contribute to the Howe Military Alumni Association, please visit our donation page. Thanks in advance.